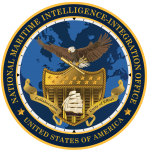 John Sanford

Maritime Security Department Head
National Maritime Intelligence-Integration Office
John Sanford leads the Maritime Security Department (MSD) within National Maritime Intelligence Integration Office (NMIO) under ODNI's National Intelligence Management Council (NIM-C). Since 2017, Mr. Sanford has led a team of Portfolio Mission Managers (Domestic and International) in "whole-of-government" approaches to deliver an effective understanding of the maritime domain within the Intelligence Community (IC).
Prior to serving as a NMIO Department Head, Mr. Sanford's assignments included several roles supporting early NMIO missions. Starting in 2018, when NMIO transitioned to the National Strategic Partnership office within ODNI as a Domain Coordinator-Maritime while also serving as a functional National Intelligence Mission Manager for Maritime (NIM-M) in the NIM-C, Mr. Sanford expanded and leveraged the Global Maritime Community of Interest (GMCOI) as well as improved intelligence/information sharing for Maritime Domain Awareness (MDA). Mr. Sanford led transformative change within the National MDA Plan's Challenges. He promoted key domestic maritime equities through the Regional MDA Improvement Plans in the Puget Sound, Great Lakes, East Coast and Southwest Border, to ensure greater collaboration with Federal, State, Local and Tribal (FSLT) agencies, international partners and maritime industry stakeholders.
His experience across a range of maritime security activities spans more than 46 years of military (CAPT, USN (Ret)), contractor and civilian service. as an intelligence and security professional, including service as a Deputy Director of Intelligence, Joint Staff and the Director of Operations, Joint Intelligence Task Force for Combating Terrorism, DIA. Prior Navy and Joint Command assignments include deployments on numerous aircraft carriers such as the USS INDEPENDENCE, USS RANGER and USS ABRAHAM LINCOLN and amphibious ships such as the USS ESSEX and USS JUNEAU. He was the US Naval Attaché in Seoul as well as the senior Intelligence Officer at US 7th Fleet Amphibious Forces, Pacific. He conducted several global deployments and military operations including Operations SOUTHERN WATCH, DESERT THUNDER, and ENDURING FREEDOM.
In addition to multiple academic degrees and numerous certifications, Mr. Sanford has been published on Korean peninsula security issues: North Korea's Military Threat: Pyongyang's Conventional Forces, Weapons of Mass Destruction, and Ballistic Missiles (2007), Strategic Studies Institute; and The Korean Armistice: Short Term Truce or Long Term Peace? (2006), US Army War College as well as being an advocate and presenting at a multitude of forums on Maritime Cyber Security ("Maskirovka"), understanding the grey zone/hybrid maritime threat issues and operationalizing a common MDA tool such as SeaVision.