From Detection To Response
From Port To Sea
Three days in one place. From maritime domain awareness to strategic planning to interdiction at sea. Everything you need for maritime security and marine law enforcement from strategies to boats, products and solutions.

The 9th Annual Maritime Security East is the 31st maritime security program hosted by Homeland Security Outlook since 2011. Maritime Security East address the needs of federal, state and local agencies, law enforcement and military to counter the challenges of securing coastlines, inland waterways, ports and critical infrastructure.

The Response Boat Expo & Conference (RBX) presents the latest technologies and solutions from coastal patrol boats to fire boats to special warfare crafts. In addition, RBX will provide critical education and insight in the acquisition, maintenance and future of small crafts in marine law enforcement, federal agencies and the Department of Defense.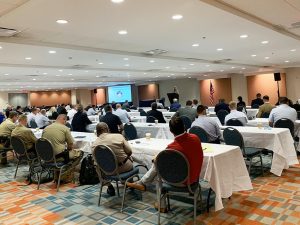 Attend
Explore a comprehensive and exciting exhibit hall full of the latest products and solutions to help you meet your challenges as well as attend insightful presentations and educational workshops. If your job is maritime/port security or maritime defense or response, you have to be here.
Draft Agenda and Registration Coming Soon
Exhibit
Whether you build boats, provide radars, maritime domain/situational awareness software or products, make the most of your time and energy by placing your company and solutions in front of professionals who are serious about their missions in securing their AOR or responding to maritime threats and incidents.
Click Here to Learn More About Exhibiting and Sponsorship Opportunities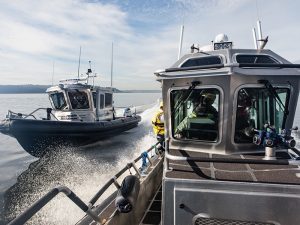 Experience
Witness boats and technologies in their operating environment. Take boat rides on demo day and experience their capabilities. See how radars and cameras provide real maritime domain awareness of the waterways and coastlines. There is no better way to educate yourself on the products unless you experience it first hand.
Be in the Middle of the Action
The Hampton Roads Area is Home To…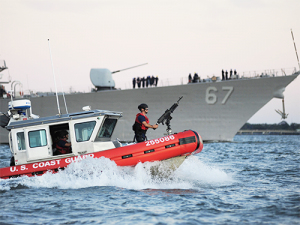 U.S. Coast Guard
Coast Guard Atlantic Area, 5th District, Sector Virginia and many other operational units.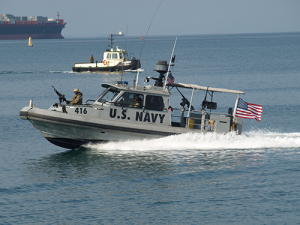 U.S. Navy
NAVAL Station Norfolk (the world's largest Navy Installation), Joint Expeditionary Base Little Creek/Fort Story and many other operational units.
Port of Virginia
The Port of Virginia extends over an area of 1,864 acres in four major terminals and features 19,885 linear feet of berth space, 50ft-deep channels and 30 miles of on-dock rail. It has an economic impact of over $90 billion per year for the region. The security of the Port is vital to the livelihood of the region and the Eastern United States.
Maritime Incident Response Team
Task force of personnel comprised from over 20 Federal, State and Local agencies providing Law Enforcement, Fire Department and Emergency Medical Services.
Learn, Discuss and Collaborate

Keynote Sessions, Panel Discussions and Workshops

Topics
Intelligence Sharing and Inter-Agency Collaboration
Maritime Domain and Situational Awareness Tools and Best Practices
Critical Infrastructure Physical Security
Cyber Security
Unmanned System Use and Mitigation
Port Resiliency and Disaster Recovery and Response
Federal Resources and Support for Maritime Security
Marine Law Enforcement Training and Support
Topics
Vessel and Equipment Acquisitions
Vessel Maintenance
End User Training
New Technologies
Grants and Funding
Rules and Regulations
Solution and Product Presentation

Federal, State, Local and Tribal Agencies and Governmental Organizations
Foreign Government and Military
Port Security Directors and Managers
Private Terminal Facility Security Officers
Government and Military Contractors
Products and Solutions Providers
Department of Defense Components
Department of Homeland Security Components
Department of Justice Components
System Integrator
Commercial Vessel Operators
Federal, State and Local Law Enforcement and Response Agencies
Department of Defense Vessel Operators and Buyers
Department of Homeland Security Vessel Operators and Buyers
Foreign Military Vessel Operators and Leadership
Government Contractors
Boat Builders
Electronics and Equipment (seats, flooring, etc.) Providers
Responders Gear and Outfitting
Vessel Maintenance Contractors
Engine Vendors