From Detection To Response
From Port To Sea
Three days in one place. From maritime domain awareness to strategic planning to interdiction at sea. Everything you need for maritime security and marine law enforcement from strategies to boats, products and solutions.
Big Thank You to everyone who participated in the program for making it a huge success!!
See you in 2023!

The 9th Annual Maritime Security East is the 31st maritime security program hosted by Homeland Security Outlook since 2011. Maritime Security East address the needs of federal, state and local agencies, law enforcement and military to counter the challenges of securing coastlines, inland waterways, ports and critical infrastructure.

The Response Boat Expo & Conference (RBX) presents the latest technologies and solutions from coastal patrol boats to fire boats to special warfare crafts. In addition, RBX will provide critical education and insight in the acquisition, maintenance and future of small crafts in marine law enforcement, federal agencies and the Department of Defense.
A Few of Our Confirmed Participants

Australian Border Forces
Charleston Police Dept.
Chesapeake Police Dive Team
Chesterfield County Fire and EMS
City of Virginia Beach
Delaware Information & Analysis Center
Delaware State Police
Federal Bureau of Investigations
Jacksonville Port Authority
Joint Task Force North
National Intelligence-Integration Office
National Maritime Law Enforcement Academy
Naval Criminal Investigative Service
Norfolk Fire Rescue
Palm Beach County Sheriff's Office
South Florida Joint Intelligence Coordination Center
Surface Navy Association
U.S. Border Patrol
U.S. Coast Guard Maritime Intelligence Fusion Center Atlantic
U.S. Coast Guard Sector Virginia
U.S. Coast Guard HQ
U.S. Customs and Border Protection OFO
U.S. Customs and Border Protection Air and Marine Operations
U.S. Dept of Homeland Security Global MOTR Coordination Center
U.S. Dept. of Homeland Security
U.S. Dept. of Homeland Security Science & Technology Directorate
U.S. Naval Research Laboratory
U.S. Navy Combatant Craft Division
U.S. Navy PMS 300
U.S. Nuclear Regulatory Commission
United Kingdom Joint Maritime Security Centre
Virginia Beach Police Dept.
Virginia Dept. of Wildlife Resources
Virginia Marine Police
Virginia Port Authority
Vessel Demonstration moved to Convention Center

Networking Social from 4:00-5:30 by Boat Displays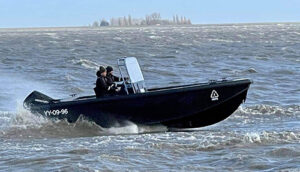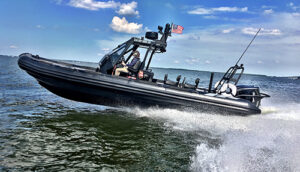 Will Demo boat on May 10th at Fisherman Wharf Marina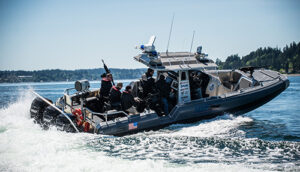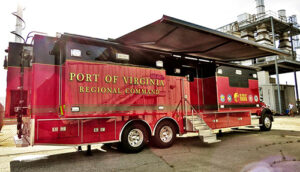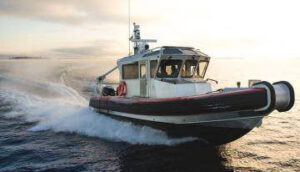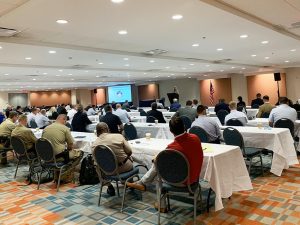 Attend
Explore a comprehensive and exciting exhibit hall full of the latest products and solutions to help you meet your challenges as well as attend insightful presentations and educational workshops. If your job is maritime/port security or maritime defense or response, you have to be here.
Exhibit
Whether you build boats, provide radars, maritime domain/situational awareness software or products, make the most of your time and energy by placing your company and solutions in front of professionals who are serious about their missions in securing their AOR or responding to maritime threats and incidents.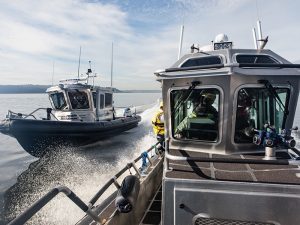 Experience
Witness boats and technologies in their operating environment. Take boat rides on demo day and experience their capabilities. See how radars and cameras provide real maritime domain awareness of the waterways and coastlines. There is no better way to educate yourself on the products unless you experience it first hand.
Learn, Discuss and Collaborate

Keynote Sessions, Panel Discussions and Workshops

Topics
Intelligence Sharing and Inter-Agency Collaboration
Maritime Domain and Situational Awareness Tools and Best Practices
Critical Infrastructure Physical Security
Cyber Security
Unmanned System Use and Mitigation
Port Resiliency and Disaster Recovery and Response
Federal Resources and Support for Maritime Security
Marine Law Enforcement Training and Support
Topics
Vessel and Equipment Acquisitions
Vessel Maintenance
End User Training
New Technologies
Grants and Funding
Rules and Regulations
Solution and Product Presentation