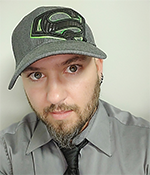 Joseph Jaubert III

Maritime Information Systems Security Engineer
Stephenson Technologies Corporation
Joseph is a neurodiverse, combat veteran, from Louisiana who can trace his paternal Cajun roots to 1745. He is a multifaceted professional who is highly capable in both Information Technology and Operational Technology, as well as Psychology, and the application of various disciplines within these domains. Though he will never call himself an expert, he is well versed in a broad array of fields.
While passionate about Cybersecurity and Psychology, Joseph also loves to discuss quantum computing, blockchain, AI/ML, Autonomous vessels, robotics, edge and emerging technologies. Outside of technology it may be found that discussing neurodiversity can be difficult, but Joseph is known for being blunt and honest. As such he encourages conversation around Autism, Anxiety, Antisocial Personality Disorders, Dyslexia, and more. He approaches this through Humanistic Psychology, and can help overcome the negative obstacles and handicaps that most disabilities are known for.
Joseph started down his career path during the 1990's, and turned it into a profession with the US Army from 2003-2013. Until 2013, Joseph was mostly versed on the Information Technology side of security. After leaving the US Military, Joseph was introduced to PLCs and other environments while working briefly for Chevron. This created a career pivot where Joseph found himself in the Oil and Gas Industry working for a Maritime Technologies company.
Early 2014, Joseph had the opportunity to work with various WAN (Wide Area Network) Technologies, as well as start cross training with Automations engineers and Operational Technology experts. This continued until 2016 where Joseph was allowed to start researching and building an Information Security Management System (ISMS) for Offshore Vessels Information Governance. After building out an ISMS to include Disaster Recovery, Incident Response, Digital Forensics, and other policies/programs Joseph went on to achieve Vessel Class Notation CS1 and CS2 (CyberSafe) through ABS from 2017 through 2021. Maturing the program over several years has allowed for advanced integrations and keen insight into working with IT and OT departments, and creating ideal solutions for stakeholders.