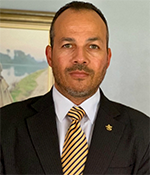 Ronald E. Carpenter

Chief Warrant Officer Five (Ret.), U.S. Navy
President, TMS Group
Ronald E. Carpenter, Jr. was born on the Southside of Chicago, Illinois. He joined the U.S. Navy after graduating high school and served honorably for over 32 years with 28 years in Special Operations Special Boat Teams. He is a combat veteran with extensive experience leading Detachments and Troops while carrying out Special Operations missions. He is one of the first Warrant Officers in the history of the Special Boat Teams to be promoted to W5, has earned two Bachelor of Science Degrees in Education and Business, and completed his Master's in
business.
He has participated in Maritime Special Operations throughout the world in 48 countries to include; the Middle East (Operation
Iraqi Freedom), Central and South America (Counter Drug Operations), Asia, Europe, North America, and Africa (Operation Enduring freedom). His Troop Commander Assignments include Riverine Task Unit Five Al Anbar Province Iraq 2007 (awarded the bronze star), and Boat Troop Five Commander Republic of the Philippines 2009 (awarded the Bronze star). He has extensive experience in mission planning, maritime tactics, intel fusion, maritime and ground escort movements, and maritime support vessel concept integration.
He Serves as the President of Train Maintain Sustain Group LLC and leads a company of seasoned former special operations veterans that are experts at all core competencies and leverage their networks to enhance mission success for best possible outcomes for our clients. He runs a discreet company that consistently produces high quality deliverables for our clients ranging from scalable training maintenance and sustainment solutions to logistics movements, operational risk management, vulnerability assessments, security escorts and consistent access and placement through training opportunities with country teams and partner forces worldwide.
Escaping the negative impact of growing up on welfare, on the South Side of Chicago, he continues to mentor our future generation living in at-risk neighborhoods though motivational speaking and reinforcing the fact that our past isn't our prison. He has spoken to over 15,000 parents, teachers and students. His goal is to improve their self-worth, inspire ambition and achievement while reducing negative behaviors through the encouragement and life lessons. Reach one to teach one so that our future generation can live to tell their story.